Weddings in St Maarten
St Maarten creates the perfect atmosphere for couples in love to come together for a wedding celebration or romantic honeymoon.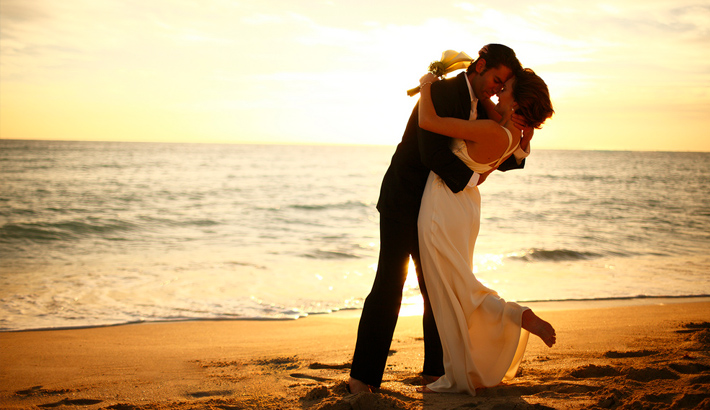 Each year, couples interested in getting married on the island send inquiries seeking information on working with the best wedding planners and learning about the legalities of getting married on the island. St Maarten has many professional wedding planners & destination management companies who are readily available to take care of all your Caribbean destination wedding details, so that the bride and groom can truly relax and indulge in their moment of romance in St Maarten.
St Maarten has many unique beaches with gorgeous landscapes, while gourmet dining and touches of pure luxury offer newlyweds everything they could want in a destination wedding, and a truly unique Caribbean honeymoon. Whether you choose to tie the knot at one of the 37 beaches on St Maarten or during a private sunset cruise aboard a luxurious catamaran, getting married in St Maarten is a travel experience of a lifetime.
Getting legally married in St Maarten
In order to have your civil ceremony in St Maarten, the following documents need to be submitted weeks prior to your chosen wedding date.
Notarized original documents must be submitted to the island Registrar with your request and must include a full abridged birth certificate to prove the legality of the same. Documents must include an "Apostille" stamp. In the US, the "Apostille Stamp" can be obtained at the Secretary of State's office while in Canada, the Minister of Foreign Affairs and the Dutch Consulate can legalize these documents.Documents not in Dutch or English must be translated to Dutch. The price for contracting a marriage will be a minimum of $178 - $410. Prices are subject to change.
Unmarried persons must present a declaration of marital status not older than 3 months
Persons must be at least 18 years of age
Registered address of both parties
Names of parents and maiden name of mother
Date and Place of birth of parents
Professions of bride and groom and of parents
6 witnesses if the marriage is performed outside of the Marriage Hall. Non-Dutch witnesses must present a valid passport or a birth certificate with a picture I.D.
If widow(er), a death certificate
If divorced, a divorce certificate or a final judgment decree
In the event persons are not of Dutch nationality, a valid passport is required
St Maarten Wedding Planners
Contact one of our recommended wedding planners today, and say "I Do" in paradise!
Sint Maarten Marry Me by Artemia
Known for planning beautiful, detail-rich weddings, our team bring a practical and detailed approach to wedding planning to style-savvy couples looking for a special destination wedding. We look forward to celebrating with you, whether it be an intimate occasion, luxury wedding or something in between.
t: 1.721.542.7140 e:
[email protected]
w:
sintmaartenmarry-me.com
Tropical Wedding & Honeymoon
Tropical Wedding & Honeymoon is the St Maarten Wedding Planner of Choice. Owned and operated by Mrs. Lucie Davis, Tropical Wedding & Honeymoon has been coordinating weddings & honeymoon in paradise for over a decade and is recognized as the most reliable and easy to work with coordinator on the island.
t: 1.721.520.7986 e: [email protected] w: tropicalweddingsxm.com
Prestige Design Events
Prestige Design Events, located on the beautiful Caribbean island of St Martin / Sint Maarten, is a Wedding, Event and Luxury Bespoke Romance Planning company that aims to provide a unique service which is personal, professional and most importantly, impeccably organized to suit your needs and requirements.
t: 1.721.553.5862 e: [email protected] w: prestigedesignevents.com