St Maarten Travel Guide
SintMaartenVacation.com is an excellent travel guide to all that St Maarten has to offer. Get the essential information you need to know as well as little gems of insider insights that you wouldn't get from other guides. If you need help booking your trip - know you're in safe hands here. Similarly if you've already booked your flight & hotel, we offer exclusive
car rental discounts
. Be sure to check our our fantastic
deals on the best tours & attractions
, and
island-hopping packages
too!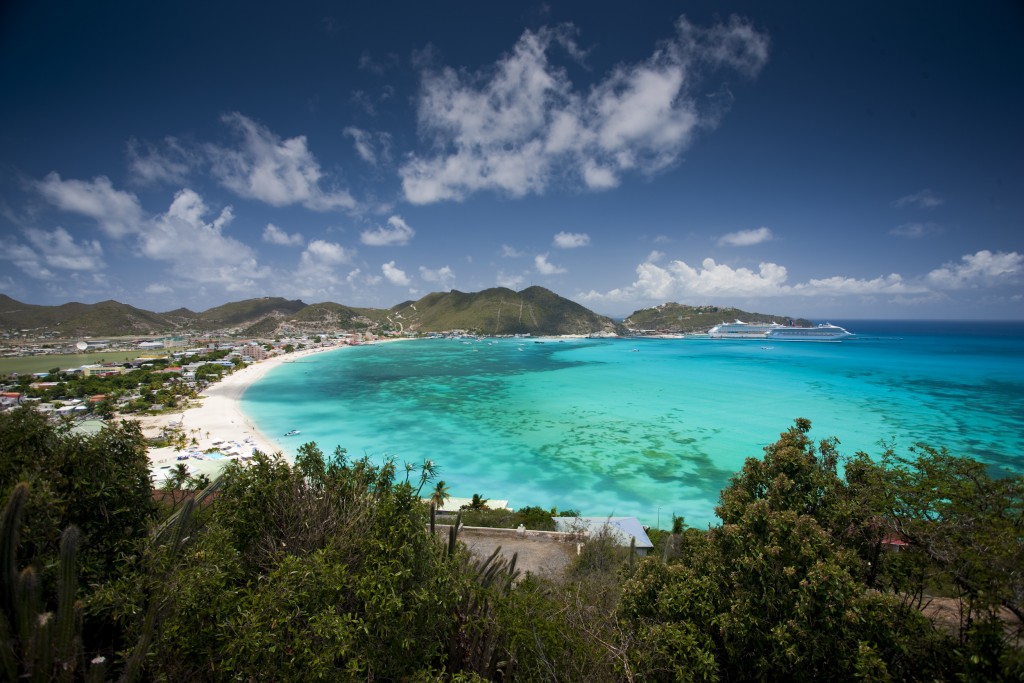 You'll find all the information you'll need in our St Maarten travel guide. St Maarten is located at the tip of the N. Eastern Caribbean & direct flights from international airports make travel to St Maarten a breeze! Miami is 2.5 hours away and 4 hours from New York. Paris & Amsterdam connect the island with Europe in just 9 hours.
Travel to St Maarten and you'll find paradise offering visitors a fusion of cultural experiences & cuisine, 37 pristine beaches and a happening atmosphere. Peacefully divided in 1648 between the Netherlands and France, today Dutch St Maarten and French St Martin is the smallest landmass in the world shared by two sovereign nations. The climate is sunny and warm with a cool topical breeze all year round.
With the south side of the island forming Dutch St Maarten, you'll find St Maarten All Inclusive Resorts, entertaining boardwalks, lively beach bars, and more than a dozen casinos. To the North, you'll find French St Martin, with its harbor full of St Martin Yacht Charters, quaint homes and luxurious villas in Les Terres Basses built up into the cliffs, reminiscent of a Mediterranean fishing village.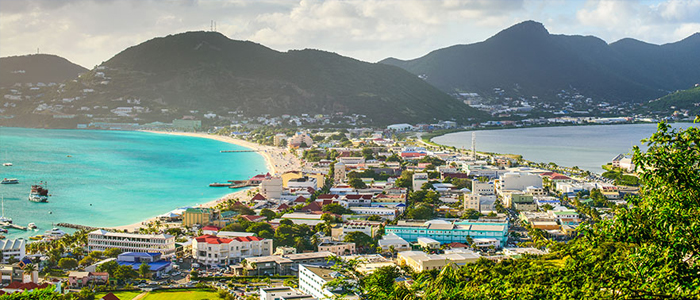 Dutch St Maarten
St Maarten Capital: Philipsburg
Airport: Princess Juliana International Airport (SXM)
Language: Dutch, English is widely spoken.
Currency: Netherlands Antilles Guilder. US$ & major credit cards widely accepted. ATMs dispense local currency and US$.
Electricity: 110 volts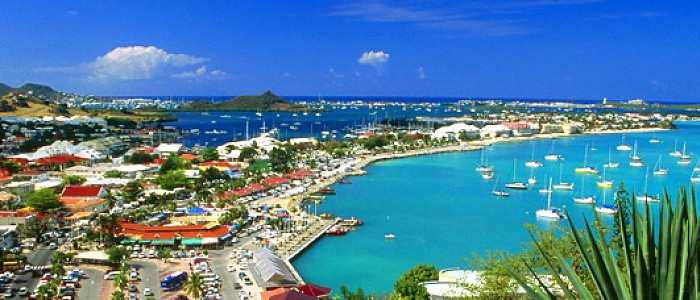 French St Martin
St Martin Capital: Marigot
Airport: Grand Case - L'Esperance (SFG)
Language: French, English is widely spoken.
Currency: Euro. US$ and major credit cards widely accepted. ATMs dispense Euros.
Electricity: 220 volts
Getting Here
St Maarten is conveniently located just a couple hours away from North America with non-stop service from many major US and Canadian cities, and just 9 hours from Europe with direct flight service from Paris and Amsterdam. Click on the airlines below for flight deals.
---
St Maarten Travel Essentials
In this St Maarten Travel Essentials section, you'll find a collection of articles & tips that should help you as you plan your trip and make your vacation safer and more enjoyable.
If you're planning a trip to St Maarten – St Martin, you're probably wondering when is the best time to visit. In our opinion, anytime is

[…]
Border division – Border crossing between Sint Maarten and St. Martin. On March 23, 1648, France and the Dutch Republic agreed to divide the island between

[…]

Acts of crime and violence can be found worldwide and so you don't have to cancel your vacation to St Maarten – St Martin or think

[…]
St Maarten Travel - FAQs
Traveling to St Maarten? Here are some of the most frequently asked questions.
1
Do I need a visa to travel to St Maarten?
2
Can I travel with my pet to St Maarten?
Yes, you can travel with your pet to St Maarten with proper and current documentation including certification of rabies shots and good health. Your vet can help you prepare these documents. Here is a list of
St Maarten pert friendly hotels
.
3
What is the legal drinking age in St Maarten?
The legal drinking age in St Maarten is 18 years old. Travelers should have proper identification if asked for, such as a valid passport, ID card or driver's license. Drinking and driving is strongly discouraged.
4
When is the best time to visit St Maarten?
5
What currency is used in St Maarten - St Martin?
In Dutch St Maarten, the USD$ is commonly used at a fixed exchange rate of US$1 = 1.80 Guilders. It is possible to dispense both US$ and local guilders at ATMs on the Dutch side. On French St Martin, the US$ is widely accepted, however at the current exchange rate to the official currency, the Euro. ATMs on French St Martin will dispense Euros.
6
What credit cards are accepted in St Maarten?
Euro/ MasterCard and Visa are the most popularly accepted credit cards throughout the entire island. American Express is accepted at a growing number of locations.
7
What timezone in St Maarten on?
St Maarten - St Martin is in the Atlantic timezone (GMT-4).
8
Do I need electrical adapters?
Electrical plugs are 110 volts in Dutch St Maarten and 220 volts in French St Martin. It is recommended that you travel with the right adapter for use of electronics when staying in French St Martin.
9
What emergency services are available in St Maarten?
On Dutch St Maarten:
St Maarten Hospital: St. Maarten Medical Center - 910
Police Department - 911
St Maarten Coast Guard - 913
Fire / Disaster Services - 919