St Barth Fast Ferry from St Maarten
Fast Ferry to St Barth from St Maarten
Travel to St Barth from St Maarten by ferry in just 30 minutes aboard a high speed fast ferry from Bobby's Marina in Philipsburg. The Great Bay Express Ferry to St Barth offers multiple departures aboard a comfortable ferry to the island of the rich and famous.
Day Trip to St Barth from St Maarten
Day Trips by ferry to St Barth are also possible for travelers who want to stroll along luxury boutiques ad million dollar mega yachts in Gustavia. Departures from Bobby's Marina daily and from Simpson Bay with the Edge Ferry to St Barth.
St Barth Private Boat Transfer
Take a private boat transfer to St Barth right after arriving in St Maarten. With a seamless departure and arrival experience, you'll start or end your trip in style and comfort. Book a Private Boat Transfer to St Barth!
Get the best deal

Fast ferry service

Safe and reliable

Convenient transfers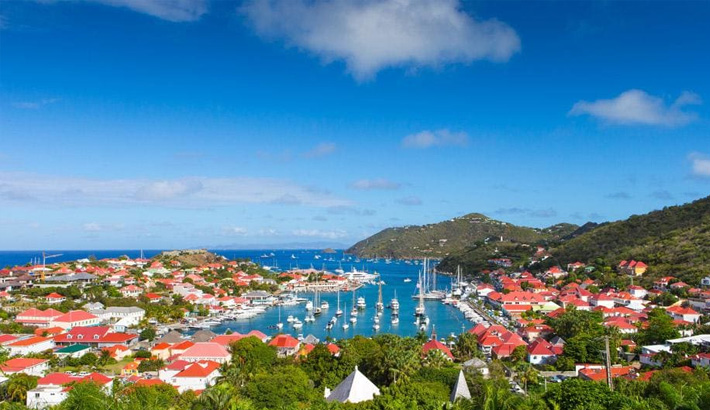 No other island in the Caribbean comes as close to the French Riviera than St Barts – home to the rich and famous. Enjoy world class shopping here, you won't find any other place for a chic spree in all the Caribbean. With all the luxuries the island offers, it's the talk of top magazines in the cities of New York and Paris.
If you enjoy cultural heritage, be sure to venture into Gustavia and discover many charming places including the Anglican Church and the Governor's Mansion. Nature lovers and sun bathers are sure to enjoy the natural pools and white sandy beaches with turquoise waters. For an unforgettable experience, duck below the surface and explore the many diving opportunities available here.
End the day with a culinary journey. For a touch of St Tropez, head for the promenade in town and have a drink at the Yacht Club. Euros are preferred but the US$ is widely accepted here.
Gustavia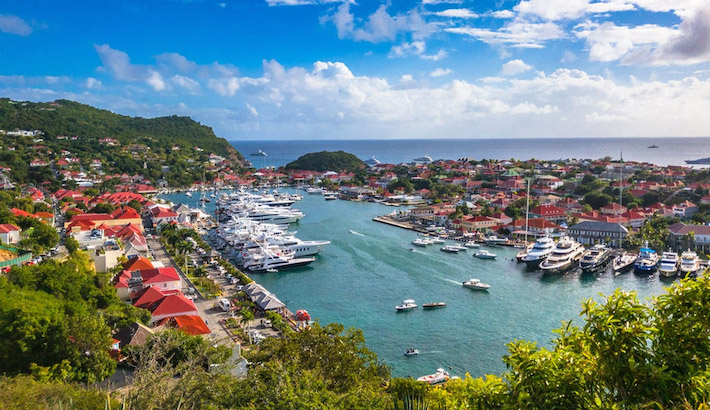 Gustavia, the capital of St Barts is a tropical landscape speckled with red roofed buildings of villas, boutique hotels, a trendy shopping atmosphere in the heart of the Caribbean. It's streets are lined with cozy cafes and world class restaurants. Be sure to trek around town and visit the historic sites like the 17th century forts that line the harbor, from Fort Karl in the north to Fort Gustaf with its lighthouse and cannons in the south.
Grand Saline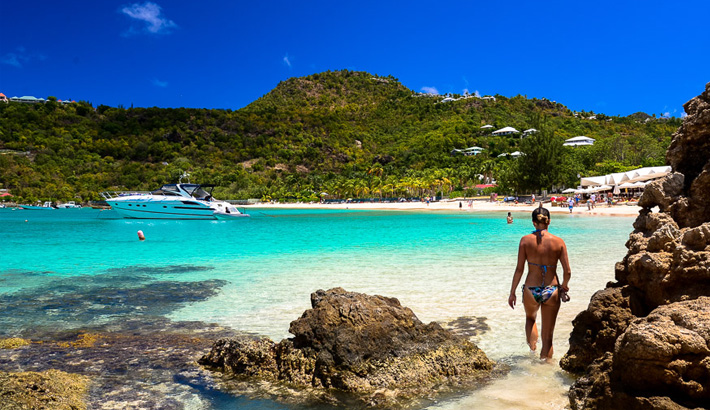 Grand Saline is perhaps the island's favorite beach offering a peaceful atmosphere and sandy ocean bottom that's great for swimming. There's no major development here and the beach can be reached in a short 10-minute walk up a rocky dune trail. There are fantastic lunch options at restaurants near the parking area, but the beach itself is just sand, sea, and sky. Grand Saline is a fantastic option for a day at the beach.
St Jean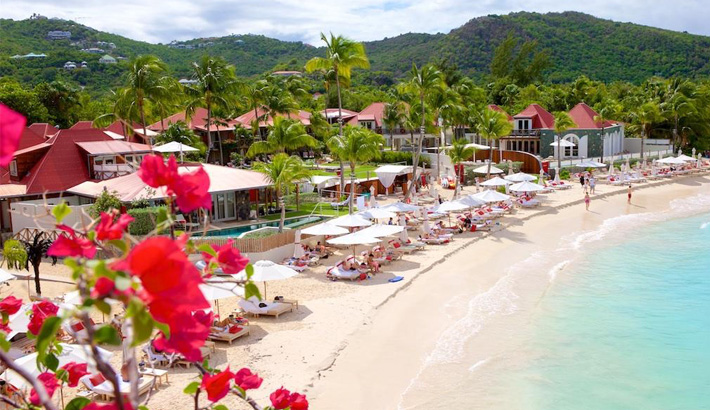 St Jean is really comparable to a mini Côte d'Azur. With its beachside bistros, terrific shopping, boutique hotels, bronzed bodies, windsurfing, and day-trippers who tend to arrive on BIG yachts—the reef-protected strip is divided by Eden Rock promontory. Except when the hotels are filled, you can rent chaises and umbrellas at La Plage restaurant or Eden Rock, where you can lounge for hours over lunch.